Are you ready for baseball? The season is now in full swing, so why not wear your own custom baseball raglan to the game? Now you can! We're excited to announce that our classic "Pirate Baseball Tee" is now available as a custom baseball tee!
Here's how it works: This 3/4 sleeve baseball shirt is a special offering. It's a CUSTOM MADE TO ORDER item. This has the Dropkick Murphy's Pirate visual and YOUR NAME and YOUR OWN NUMBER on the back. These custom tee's will be on American Apparel, so you know they'll fit good! Simple enough, right? Well, head on over to the US Webstore or click the image below and get to customizing!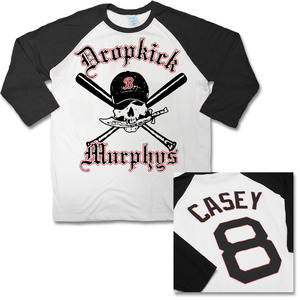 In addition to the baseball tee, we have some new apparel in stock as well! We have some tour shirts (dates included!) men's/women's tees, a new beanie, a couple of hoodies and a new toddler tee! Click the link below and get to it!